Time to share some of our easy go-to Christmas Dinner Recipes. First of all, can you believe that Christmas is on Monday?! Holy cow, where did the time go. Anyways, we are gearing up for our feast with our family and friends wanted to share some of the inspiration we have scored off of Pinterest for our holiday feasts. Including a pair of Cinderollies at each guest's seat (as a favor, of course) we have come up with our list of dishes and cocktails to share with you all now. Gear up for a load of Christmas Dinner Recipes because we are excited to share. Share some of your favorite easy Christmas dinner ideas in the comments below!
Christmas Punch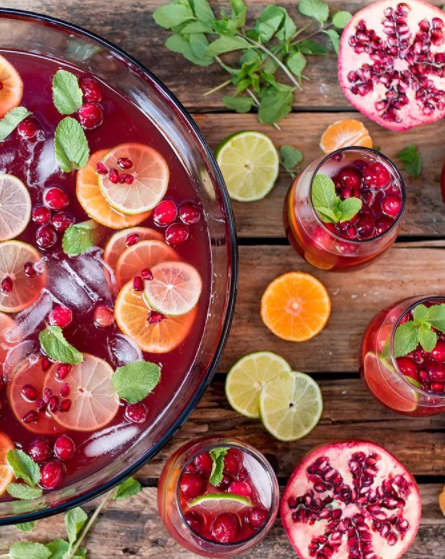 INGREDIENTS
2 litres (1¾ quarts) cranberry juice
700ml (approx. 3 cups) pomegranate juice – I used Pom juice for a stronger flavour
500ml (approx. 2 cups) clementine juice (use orange juice if you can't find clementine juice)
Juice of 2 limes
3 limes, sliced
3 clementines, sliced
100g (1 cup) fresh or frozen cranberries
Seeds from 1 pomegranate
Ice
1 bottle of prosecco
300ml (1¼ cups) vodka
Small bunch of mint leaves
INSTRUCTIONS
Pour the cranberry juice, pomegranate juice, clementine juice and juice of 2 limes into a large punch bowl and stir. Add the lime slices, clementine slices, cranberries and pomegranate seeds. If you're making the punch ahead, you can cover and place the punch in the fridge at this point for 2-3 hours.
When ready to serve, add ice to the punch, then pour in the prosecco and vodka. Stir and sprinkle on fresh mint leaves.
(Photo & Recipe via Kitchen Sanctuary)
Christmas Dinner Recipes- Salad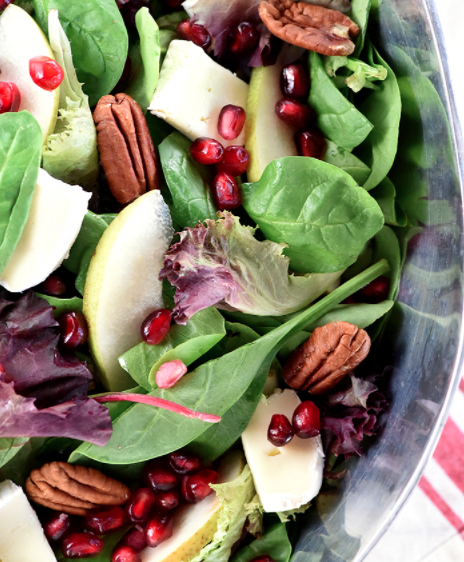 Ingredients
FOR THE BALSAMIC VINAIGRETTE:
2/3 cup extra-virgin olive oil
1/4 cup good-quality balsamic vinegar
1 tablespoon Dijon mustard
1 teaspoon honey
1 teaspoon lemon juice
1 clove garlic, pressed or finely minced
1/4 teaspoon salt, plus additional to taste
Freshly ground black pepper, to taste
FOR THE SALAD:
3 medium (ripe, yet firm) D'Anjou pears, thinly sliced
Juice of 1/2 lemon (more, as needed)
16 ounces salad greens (such as spring mix, with or without baby spinach)
8 ounces Brie, thinly sliced and cut into 1-inch pieces
Seeds from 1 large pomegranate
1 1/2 cups pecan halves, toasted
Instructions
To prepare Balsamic Vinaigrette, measure all of the ingredients into a mason jar. Tightly screw on the lid and shake vigorously until everything is thoroughly combined. Alternatively, you may briskly whisk the ingredients together in a medium bowl, or blend them in a blender or mini food processor.
Immediately after cutting the pear slices, place them in a large plastic baggie and squeeze fresh lemon juice over them. Close bag and gently shake to coat. In a large salad bowl, layer salad greens, pear slices, pieces of Brie, pomegranate seeds, and toasted pecans. Just before serving, dress with desired amount of Balsamic Vinaigrette and toss until salad ingredients are evenly coated.
(Photo & Recipe via Five Heart Home)
Dinner Rolls Recipe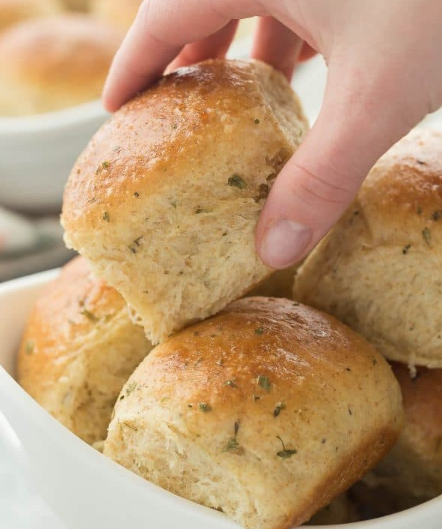 INGREDIENTS
1

cup warm milk (not hot — I microwave on high for about 45 seconds)

3

teaspoons instant yeast

1/2

cup butter, softened

1/4

cup (50g) sugar

2

eggs

3/4

teaspoons salt

1

teaspoon garlic powder

1/2

teaspoon parsley

1/2

teaspoon basil

1/2

teaspoon thyme

2

cups (250g) whole wheat flour (or use all purpose)

2

cups (250g) all purpose flour
INSTRUCTIONS
In a large bowl (the bowl of your stand mixer if using), whisk together milk and yeast. Let sit for 5-10 minutes until bubbly — this is how you know your yeast is working.
Add butter, sugar, eggs, salt, garlic powder, parsley, basil and thyme and mix with whisk or stand mixer until eggs are beaten (butter will still be a little chunky, and that's okay).
Add the flour and mix with a dough hook (or your hands!) until smooth but slightly sticky. Place in a greased bowl and turn to coat the ball of dough. Cover with plastic wrap or a clean towel and set in a warm place to rise for 60-90 minutes, until doubled.
Lightly grease a 9×13″ pan and roll dough into 12-14 balls. Place in pan and cover to let rise for about 30 minutes, until doubled again.
Meanwhile, heat oven to 350 degrees F.
Bake for 22-25 minutes, until medium golden brown.
(Photo & Recipe via The Recipe Rebel)
Brown Sugar Glazed Pork Loin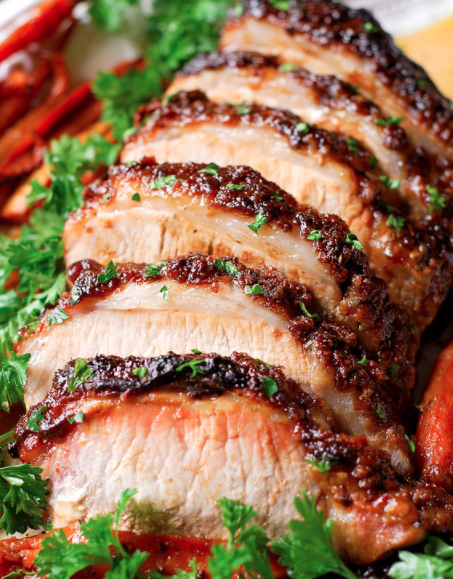 Ingredients
Meat:
Vegetables:
1 lb carrots, cut in strips
2 large granny smith apples, peeled, cored and sliced in thick slices
2 sweet potatoes, peeled and sliced lengthwise
3 apples, peeled and sliced (optional)
2 tbsp olive oil
1/3 cup brown sugar
Spices:
1 tsp sea salt
1/2 tsp black pepper
1 tsp Italian seasoning
Glaze:
3 tbsp Dijon mustard
1/2 cup brown sugar
Instructions
Cut carrots and sweet potatoes lengthwise. Add them to the bowl, add 2 tablespoons olive oil and mix well.
Slice peeled apples – but place them in a different bowl to be added later (optional step).
Place pork loin with fat layer on top in the middle of the baking sheet. Surround it with oiled up carrots and sweet potatoes. Do not add brown sugar or apples yet. My picture shows apples, but I took them out of the pan and added them after 30 minutes in the oven.
Season the pork loin and vegetables with spices evenly: 1 tsp sea salt, 1/2 tsp black pepper, 1 tsp Italian seasoning. Add more than that if desired.
Generously brush the entire surface of the pork loin (except bottom) with Dijon mustard – 3 tablespoons. If your pork loin is smaller, use less.
Press ½ cup of brown sugar into the mustard, all over the roast.
Place the baking sheet in the oven and cook at 375 degrees F. Take it out after 30 minutes and add sliced apples and sprinkle with 1/3 cup brown sugar over the veggies. Return the roast to the oven and continue cooking until the internal temperature of the roast hits between 145 (pink roast) to 160 degrees F (white roast) on a meat thermometer for 50 minutes at least.
Let the roast rest for 10 minutes before carving and serving.
(Photo & Recipe via What's In the Pan?)
Peppermint Oreo Truffles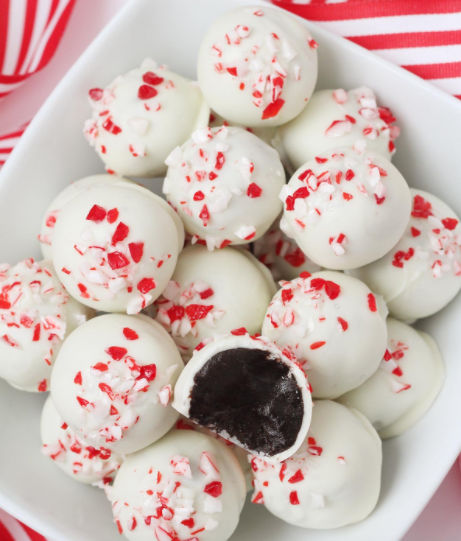 Ingredients
1 16 oz. package regular Oreo cookies
1 8 oz. package cream cheese
1 1/2 teas. peppermint extract
8 oz. melting chocolate, candy coat, OR almond bark (melted)
Instructions
Crush (whole) Oreos into fine crumbs; place in medium bowl.
Add cream cheese and peppermint extract to the crushed Oreos; mix until well blended.
Refrigerate mixture until firm, about one hour.
Roll cookie mixture into balls, about 1-inch in diameter.
Dip balls in chocolate/candy melt/almond bark; place on wax paper.
Sprinkle with crushed candy canes immediately after placing on wax paper.
Refrigerate until firm, about 1 hour.
Store truffles, covered, in refrigerator.
Yields about 20-30 truffles.
NOTES:
• Add 1/2 teas. to 1 teas. more peppermint extract for more peppermint flavor
• If you want a drier consistency for the truffle filling, use 4 oz. of cream cheese. You can add more cream cheese, ounce by ounce, to get your desired consistency.
• To help prevent the Oreo mixture from mixing into the white chocolate/candy coat, melt small batches of chocolate/candy coat at a time.
(Photo & Recipe via Two Twenty One)