Wedding cocktail ideas are all the rage. Us Cinderollies folk enjoy a good cocktail every now and then. And a speciality cocktail at a wedding…talk about a good time! Today, we are featuring some of our favorite wedding signature drinks for you all to taste and try before your big day. We love it when there is a "his and hers" drink so you and your other half, take a night to taste test all of these yummy concoctions. We have a feeling you won't regret it! Browse our cocktail ideas for weddings below.
Ginger Whiskey Cocktail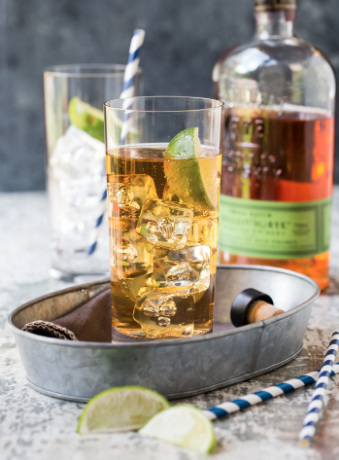 Ingredients
2-3 ounces whiskey
Ginger ale
Lime wedge
Instructions:
Fill a highball glass with ice. Pour whiskey into glass. Top with ginger ale. Float a lime wedge.
(Photo & Recipe via Garnish with Lemon)
Cheeky Rose Cocktail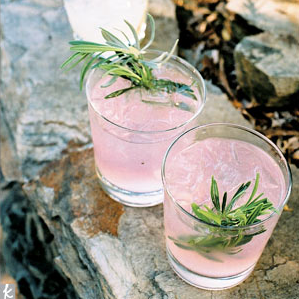 Ingredients:
Handful of rosemary leaves
1/2 oz. fresh lemon juice
1/2 oz. honey syrup (equal parts honey dissolved in water)
1 oz. gin
1 oz. rose wine
Rosemary sprigs, for garnish
Instructions:
Muddle rosemary leaves in lemon juice and honey syrup.
Add ice, gin, and rose wine and shake well.
Strain over ice into a rocks glass.
Garnish with rosemary sprigs.
(Photo & Recipe via I Do Love It)
Apple Cider Moscow Mule Signature Cocktail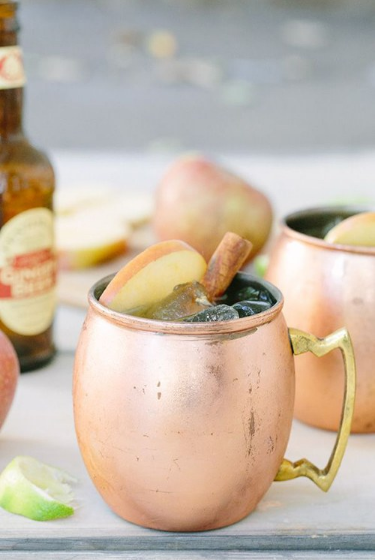 Ingredients:
2 ounces ginger flavored vodka
2 ounces apple cider (store bought or homemade)
Juice of 1 small lime wedge
Good quality ginger beer to top off (about ½ cup or so)
Cinnamon to sprinkle
Instructions:
In a copper mug, add the vodka, apple cider and lime juice.
Fill the glass with ice, sprinkle cinnamon over the ice, then top off with ginger beer.
Stir well and garnish with an apple slice and cinnamon stick.
(Photo & Recipe via Sugar & Charm)
Pink Strawberry Sangria Wedding Signature Cocktail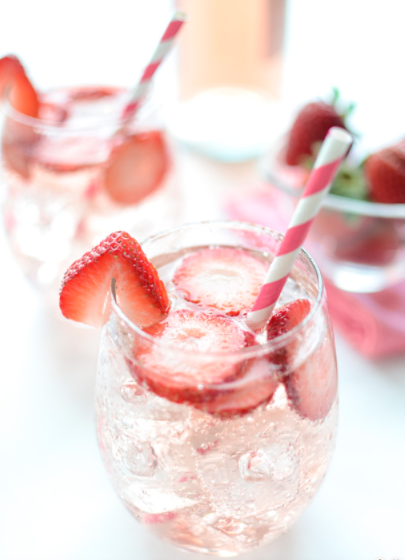 Ingredients:
1 75-ml bottle pink moscato wine
½ cup strawberry flavored vodka
2 cups lemon-lime soda
6 – 10 large strawberries, sliced
Instructions:
In a large pitcher, combine the wine and vodka. Add strawberries and refrigerate until ready to serve.
Just before serving, add the lemon-lime soda.
Serve over ice.
(Photo & Recipe via Simply Whisked)
Find more of our favorite signature drinks for weddings on our Pinterest board!