With summer coming to a close, we wanted to share some of our favorite summer recipes. As we are soaking in the final, long days of the year, make sure to gather your friends and family to grill out. With a range from seafood to vegetable dishes, we found these delicious summer recipes on Pinterest. If you have another recipe you think everyone should try, comment below and we will add it on in! The Cinderollies crew is always looking to try new dishes.
Sheet Pan Shrimp Boil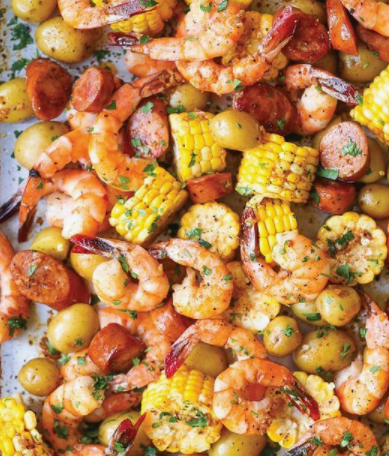 Ingredients:
1 pound baby Dutch yellow potatoes
3 ears corn, each cut crosswise into 6 pieces
1/4 cup unsalted butter, melted
4 cloves garlic, minced
1 tablespoon Old Bay Seasoning
1 pound medium shrimp, peeled and deveined
1 (12.8-ounce) package smoked andouille sausage, thinly sliced
1 lemon, cut into wedges
2 tablespoons chopped fresh parsley leaves
Directions:
Preheat oven to 400 degrees F. Lightly oil a baking sheet or coat with nonstick spray.
In a large pot of boiling salted water, cook potatoes until just tender and parboiled, about 10-13 minutes. Stir in corn during the last 5 minutes of cooking time; drain well.
In a small bowl, combine butter, garlic and Old Bay Seasoning.
Place potatoes, corn, shrimp and sausage in a single layer onto the prepared baking sheet. Stir in butter mixture and gently toss to combine.
Place into oven and bake for 12-15 minutes, or until the shrimp are opaque and corn is tender.
Serve immediately with lemon wedges, garnished with parsley, if desired.
(Photo & Recipe via Damn Delicious)
Grilled Lime Salmon with Coconut Rice & Mango Salsa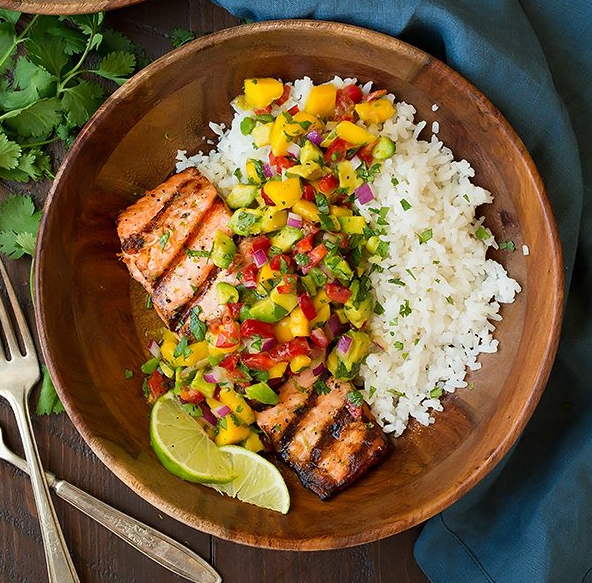 Ingredients:
4

(6 oz) skinless salmon fillets

3

Tbsp

olive oil

, plus more for grill

2

tsp

lime zest

3

Tbsp

fresh lime juice

3

cloves

garlic

, crushed

Salt and freshly ground black pepper

, to taste
Coconut Rice
1 1/2

cups

Zico Coconut Water

1 1/4

cups

canned coconut milk

1 1/2

cups

jasmine rice

, rinsed well and drained well

1/2

tsp

salt
Avocado-Mango Salsa
1

large mango

, peeled and diced

3/4

cup

chopped red bell pepper

(1/2 large)

1/4

cup

chopped fresh cilantro

1/3

cup

chopped red onion

, rinsed under water and drained

1

large avocado

, peeled and diced

1

Tbsp

fresh lime juice

1

Tbsp

olive oil

1

Tbsp

Zico Coconut Water

Salt and pepper

, to taste
Directions:
For the salmon:

In an 11×7-inch baking dish whisk together olive oil, lime zest, lime juice, garlic and season with salt and pepper to taste (a fair amount of each). Place salmon in baking dish, cover and allow to marinate in refrigerator 15 – 30 minutes, then flip salmon to opposite side and allow to marinate 15 – 30 minutes longer. Preheat a grill over medium-high heat during last 10 minutes of marinating.

Brush grill grates with oil. Place salmon on grill and grill about 3 minutes per side or until just cooked through (turn carefully as the salmon will be fragile).

For the coconut rice:

While salmon is marinating prepare coconut rice. In a medium saucepan bring coconut water, coconut milk, rice and salt to a full boil. Cover and simmer until liquid has been absorbed (there may be just a little bit of excess liquid in center which you can drain off), about 20 minutes. Fluff with a fork, then let rest 5 minutes.

For the avocado-mango salsa:

While the salmon is grilling prepare salsa. In a medium bowl toss together mango, bell pepper, cilantro, red onion, avocado, lime juice, olive oil and coconut water. Season with salt and pepper to taste.

Serve salmon warm with coconut rice top with avocado mango salsa.
(Photo & Recipe via Cooking Classy)
Corn & Zuchinni Chowder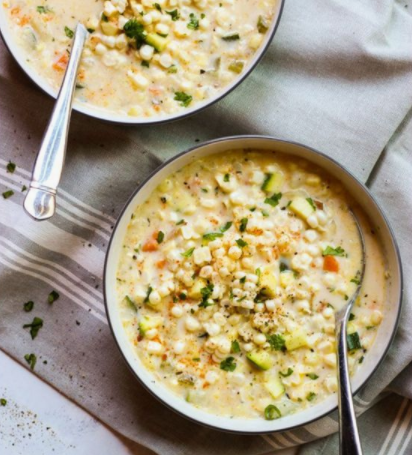 Ingredients:
1 Tbsp. butter
2 strips bacon, chopped
1 cup chopped yellow onion, about ½ large onion
2 celery ribs, chopped (1/3 cup)
1 medium carrot, peeled + chopped (1/2 cup)
2 garlic cloves, minced
½ tsp. dried thyme
2 medium (1 lb.) russet potatoes, peeled, diced into ½-inch cubes
4 cups water
1 bay leaf
4 ears of sweet fresh corn, husk + silk removed and kernels cut from cob (2¾ cup corn)
1 medium zucchini, diced into ½-inch cubes, (1½ cups)
1 cup half and half
salt and fresh ground black pepper
chopped fresh parsley, to garnish
cayenne pepper, to serve, optional
Directions:
In a large heavy-duty bottom stockpot or dutch oven, melt butter over medium heat. Add bacon and cook until bacon renders its fat and begins to brown, about 3-4 minutes.
Add onion, celery, carrots, garlic, and thyme; cook until vegetables begin to soften, stirring couple times, about 5 minutes.
Add potatoes, water, and bay leaf. Raise the heat to medium high and bring to a simmer, then lower the heat back to medium and simmer for 8-10 minutes or until the potatoes are halfway cooked.
Add zucchini and corn; season with salt and pepper, to taste, and simmer for additional 8-12 minutes or until the vegetables are completely tender.
Discard the bay leaf and then transfer 2 cups of chowder to a food processor or blender; puree until smooth. Stir the mixture back into the pot. Add half and half and cook just until heated through. Taste for salt and pepper.
Serve garnished with fresh chopped parsley and sprinkle of cayenne pepper, optional.
(Photo & Recipe via Little Broken)