When it comes to thanking your bridal party for standing by your side as you say "I Do", it is hard to determine exactly what will say thank you loud enough. But no fret! We have come up with some pieces that would make the perfect bridal bag to present to your girls. Creating custom bridesmaid goodie bags will have your group of gals smiling from ear to ear. And all items go PERFECTLY with our Cinderollies, of course.
Custom Bags:
Getting custom bags made for your bridesmaids is not only a great vessel to stuff all of your goodies into but will also be put to good use even after the big day. Purchase ones with each bridesmaid's made monograms stitched on or even ones with a cute saying, will make them happy girls.
Shoes:
Include a pair of our Cinderollies bridesmaid favors in their bags and they will be singing your praises later in the night! As most bride's ask their ladies to wear heels for the walk down the aisle, by the end of the night, their dogs are barking. Treat them to these comfy slip ons and everyone will be dancing the night away!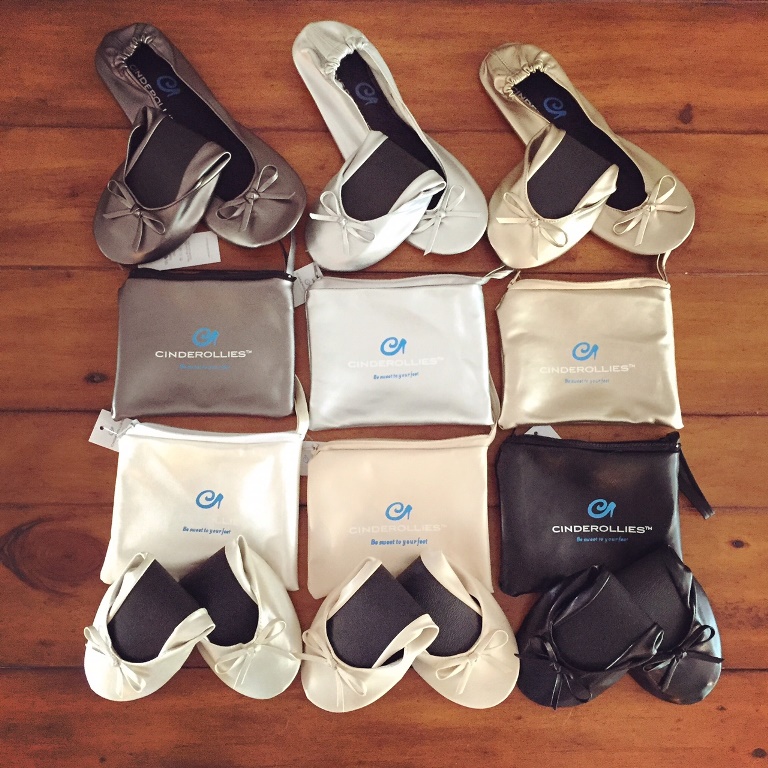 Jewlery:
Want all of your girls to match, from the dress to the shoes to the little accessories? Gift them the perfect dangly earrings or sparkly bracelets to wear as you say "I Do". That way they all match without them having to spend another dollar on the look.
Robes:
While you all get ready, it is ideal to wear something that is easy to take off without messing up your pretty locks and beautiful makeup. Give your girls their own floral robes to wear for convenience and fun getting ready pictures. Also, another item they can wear after your wedding and will thoroughly enjoy.
Energy:
Get the party started off right with adorable, mini champagne bottles! Spruce them up with custom labels and you all will be enjoying the pre-ceremony time much more easily.
Survival kit:
Set up some mini survival kits for your ladies for all things they may need throughout the day and into the following. Although your wedding planner will most likely have these on deck, creating little baggies filled with safety pins, breath mints, mini deodorants and bobby pins will keep your girls relaxed of any mishaps coming up. Providing some snacks and tylenol will also ease their tummies and hangovers. And don't forget that personalized note to say thank you for their time throughout the years, and most importantly, for standing by your side.
We hope these fun finds will help guide you in the creation of your bridesmaid goodie bags! Whatever you create for your girls, we know they will be thrilled and excited for the big day.