It's the first day of summer! You know what that means…our 5 signature drinks for a summer wedding are hot and ready to go now! The Cinderollies crew is all about working hard and playing hard. So on today's post, we wanted to share some of our favorite summer cocktails with you all. It is starting to get hot and humid here in Charleston, South Carolina so we have done some taste testing on our favorite beverages. These 5 summer cocktail ideas would be perfect for a specialty cocktail at your summer wedding. Cool and refreshing is what every guest wants to sip on. Check out these summer wedding cocktails below and make sure to comment which one was your favorite to make!
Frozé Cocktail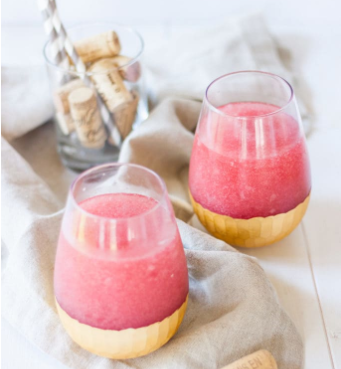 Ingredients:
1 750 ml bottle rosé ( choose a heavy, dry rosé that looks darker than the others )
½ cup sugar
½ cup water
8 ounces strawberries, hulled, quartered
2½ ounces fresh lemon juice
1 cup ice
Instructions:
Pour the wine into a large ( 13 x 9 or larger ) sheet pan ( Don't be an idiot — obviously this pan needs to have lips so the wine stays in it ). Freeze for at least 6 hours.
Bring the water to a boil. Add the sugar, reduce the heat to low, and stir until all of the sugar is dissolved. ( HEY you just made simple syrup! Good work! )
Add the strawberries to the water/sugar, and give it a solid stir. Let that mixture sit for around 30 minutes to infuse the simple syrup with the flavor of the strawberries.
Strain the strawberry syrup through a sieve, but don't mash the strawberries through, just let it flow through naturally. Save the strained strawberries to put on some ice cream later, because that would be delicious. Oh, but the syrup: Chill the syrup for 30 minutes.
Add 3 ounces of strawberry syrup, 2½ ounces lemon juice, 1 cup of ice, and the frozen wine to a blender and blend until smooth. Serve!
(Photo & Recipe via Basil & Bubbly)
Blueberry Mojito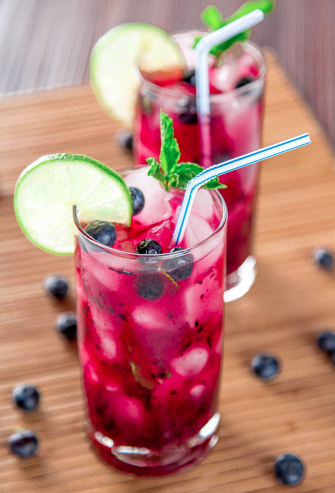 Ingredients:
1 Cup Fresh Blueberries, (Set aside a few for garnish if desired)
4 Ounces Rum
10 Fresh Mint Leaves
2 Teaspoons White Sugar
Juice of 2 Limes
6 Ounces Club Soda
Ice Cubes
Instructions:
Blend or muddle blueberries until smooth. Set aside.
Use a muddler or wooden spoon to blend in mint leaves and sugar.
Stir in rum, lime juice, and blueberry mixture.
Pour over club soda & ice. Gently stir.
Garnish with extra blueberries,lime, and mint if desired.
(Photo & Recipe via Baking Beauty)
Watermelon & Pineapple Sangria Summer Cocktail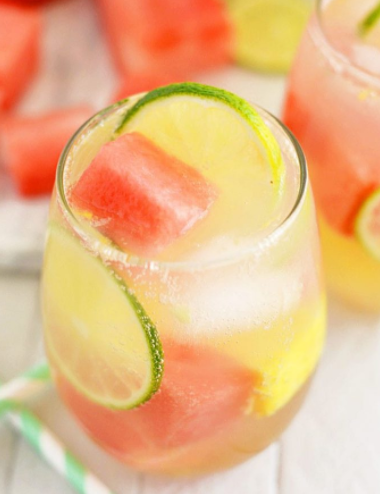 Ingredients:
1

bottle Moscato wine (750 ml)

1/2

C brandy

1

lime, thinly sliced

2

C Del Monte® watermelon, cubed and cold

2

C Del Monte Gold® Extra Sweet Pineapple, cubed and cold

lemon lime soda, for serving

ice cubes
Instructions:
Pour the wine and brandy into a pitcher and stir to combine. Add the sliced lime, watermelon, and pineapple.
To serve, place some of the fruit in a glass with ice. Pour the sangria over the ice and top with lemon lime soda.
(Photo & Recipe via What The Fork Food Blog)
Grapefruit Ginger Vanilla Margarita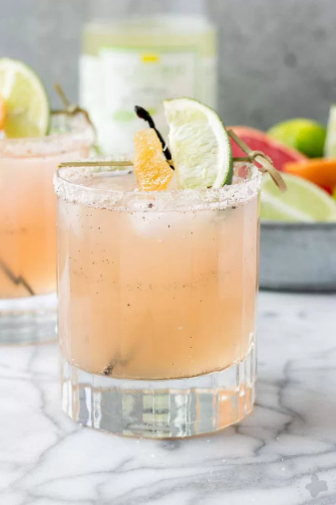 Ingredients:
1.5 ounces tequila blanco
Seeds from 1/2 vanilla bean pod
2 ounces Stirrings 5 calorie Margarita cocktail mix
2 ounces grapefruit juice, freshly squeezed
2 ounces ginger beer (I used diet)
Stirrings Margarita rimmer
Instructions:
Dip the edge of your glass into water or rim the edge of the glass with a wedge of lime.  Dip into Stirrings margarita rimmer or a mixture of salt and sugar, if desired.
In the bottom of your glass, add tequila and seeds from vanilla pod.  Stir to break up any clumps of vanilla seeds.

Add Stirrings 5 calorie Margarita cocktail mix and grapefruit juice. Stir.

Place a handful of ice into the glass and top with ginger beer.  Add more of less to your taste preference.  I added 2 ounces.
If desired, garnish with a grapefruit wedge, crystallized ginger and/or vanilla pod.
(Photo & Recipe via Strawberry Blondie Kitchen)
Raspberry Peach Lemonade in our Top 5 Summer Cocktail Ideas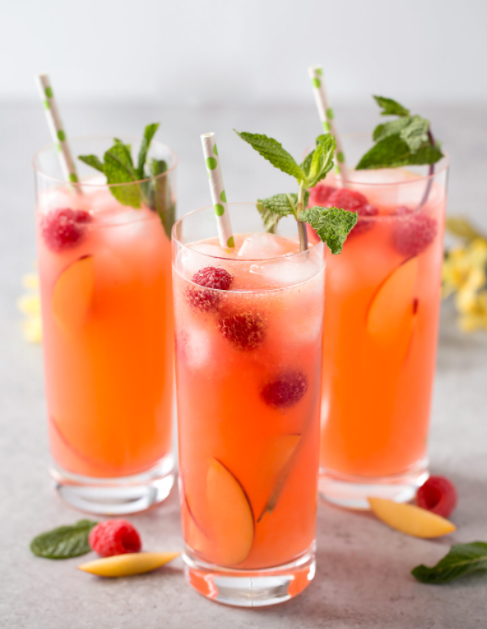 Ingredients:
RASPBERRY PEACH PUREE:
4

fresh peaches, pitted, then diced into large chunks

1

cup

fresh raspberries

1 1/4

cups

water
SIMPLE SYRUP:
1/2

cup

granulated sugar

1/2

cup

water
LEMONADE:
7

cups

cold water

1 1/4

cups

fresh lemon juice (from approximately 4 lemons)

ice cubes

additional raspberries, for garnish

optional

additional peach slices, for garnish

optional

mint sprigs, for garnish 

optional
Instructions:
Add diced peaches, raspberries and water to a food processor or blender and process until pureed.

Place a sieve over a large mixing bowl and pour peach raspberry puree into the sieve. Use the back of a large spoon to push the puree around so the liquid falls through the sieve and seeds/skin stay inside the sieve.

Discard seeds/skin from the sieve and set mixing bowl with liquid in it aside.

Add granulated sugar and 1/2 cup water to a small saucepan and heat over MED heat until sugar dissolves into the water, stirring occasionally. Boil about 3 minutes until liquid has become syrupy. Set aside to cool slightly.

Add 7 cups water, lemon juice and ice cubes to a large pitcher. Stir to combine. Pour in cooled simple syrup and peach raspberry liquid. Stir to combine again.

Store covered in refrigerator until ready to serve.  Serve chilled with garnishes, if desired

(Photo & Recipe via The Chunky Chef)
See more of our favorite signature drinks for a summer wedding on our Pinterest board!